Catherine Lawless Daily was born December 14, 1842 in Madison, Indiana. She was the daughter of Patrick. Nothing is known about her childhood except that she was an orphan.
Catherine married James F. Theriac who died September 19, 1864. They had a son named Edward. She then married Michael Daily on November 5, 1866, in Vicennes, Indiana. Because of Michael's poor health, he lived at the U.S. Soldiers and Sailor's Home in Dayton, Ohio. Catherine had the large responsibility of raising seven children. Her family resided on Crawford St. and later George St. in Middletown.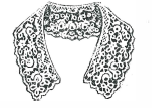 Gram Daily was a thin, little woman who loved to sew for her 6hildren and grandchildren. Very neat in appearance, she always wore lace collars and white gloves. Catherine died October 23, 1931 and is buried at Calvary Cemetery in Middletown, Ohio.
Resources
Marie Wetzel, granddaughter
Bob Daly
Civil War records of Michael Daily
Soldiers Home Records
Louise O'Brien, great granddaughter