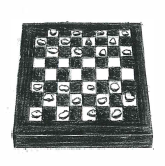 Hugh Frederick McGilvery never really knew his birthdate. He grew up an orphan, going from orphanage to foster homes. He believed his parents had drowned in a boating accident. Memories of his childhood included a farmer who let him live in a barn in return for work. Hugh would watch the farm children play as he did his chores in shoes that were too small. One Christmas, Hugh did receive a checkerboard in which he used stones as checkers.
Finally tired of his existence Hugh ran away hoping to find work in the west. He did work on several ranches and at one he was particularly welcomed. There the rancher looked upon young Hugh as a son. At a later time the rancher would be very disappointed at Hugh's refusal after offering him a future at the ranch.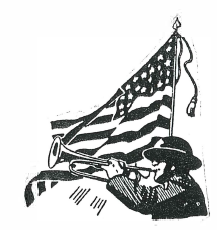 Hugh also tried logging in Spokane, Washington and it was there that he enlisted in the Army on April 4, 1917. Because he didn't know his birthdate, Hugh used June 24, 1890 or 1892. was a cook and a chauffeur for the Hugh officers during World War I. He was present at many battles, La Marne, St. Michael, Champayne, Aisue-Marue, Marne-Marue and part of the Argonne Force. Hugh remembered how cold it was in France, they were not permitted to light fires for fear the Germans would see them. He documented World War I with a camera and his pictures were both explicit and horrifying.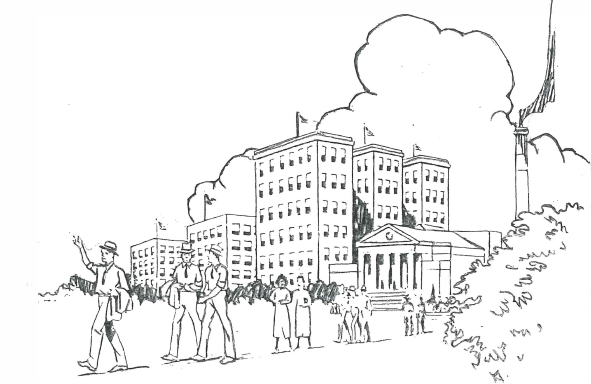 It was during a leave from Wright Field that Hugh met Mildred Daly at a dance at Lakeside Pavillion in Dayton, Ohio. They were married November 27, 1919 and resided in Dayton. Hugh, or Mac as he was called, found employment at The National Cash Register Conpany. At NCR he provided instruction on cash register assembly and was also a foreman.
All went well and Mac and Mildred had a house built on Monteray Avenue in Oakwood. When the Depression came, Mac's workdays were greatly reduced. A proud man, Mac refused to go on any assistance programs and was unable to keep up with the payments on their home. After losing their dream home, Mac and Mildred moved their family to an apartment on Portland Avenue. It was in Edgemont, a very nice area close to all the Dalys.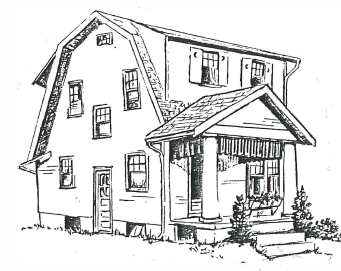 Mac always let Mildred handle the paycheck. On Friday afternoons they would meet at Sam's Resturant, downtown, to give her the check and have lunch. He knew if he didn't he would be tempted to buy for the whole family.
Weekends were usually spent at the Daly's home. All the familys gathered in his father and mother-inlaw's basement to drink jugs of beer and talk about NCR. This would mean Sunday was hangover day for Mac and Mildred. Mac would make breakfast and drive Mildred, the children, and several aunts to church. Later Mildred would cook a large dinner and then lay down for a long nap while Mac listened to the ball game. During the evenings the family would gather together for ice cream or sodas.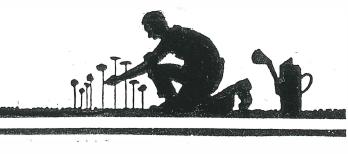 Mac was always proud of his beautiful flower garden of petunias and zinnias and large vegetable garden. A saver, he kept numerous items such as buttons in jars according to size, color, and type. Mementos of WWI included some elaborate German helmits and a pair of Dutch wooden shoes. He had given Mildred 􀁪beautiful aprons he had bought in France.
All year long Mac saved rags and newspapers which he tied in bunches. When he took his vacation he sold the bunches west of Dayton. With this money he was able to take his family to Cincinnati for a ferry boat ride to Coney Island, an amusement park. Vacations were also spent in Middletown visiting Aunt's Agie and Katie who lived behind Uncle John's grocery store. Adults and cousins would have a grand party where they told ghost stories and walked through the cemetery.
On Thanksgiving Day, Mac would take his children and a few cousins downtown to watch the parade. Since automobiles did not have heaters, he'd heat up some bricks on the furnace, wrap them in blankets, and put them on the floor of his car. Then everyone could keep their feet warm! Mac bought his tree on Christmas Eve and he often decorated it with al􀂜 blue lights and ornaments. One Christmas he gave Mildred end tables and a console table that he had built in his workshop. A very talented wood worker, he owned an extensive tool collection. Mac enjoyed making toys for his children, Adele received a dollhouse and Jimmy a beautiful wagon.
Mac and Mildred had many friends and enjoyed playing cards with them. When Mac won a pot he always felt bad for taking everyones money. At the end of a game he would give it all back or while playing try to cheat so he could lose!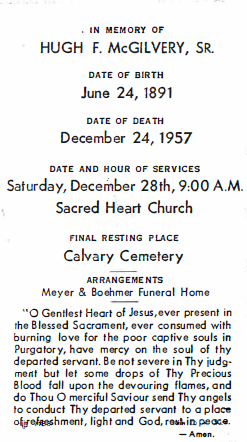 When Mac's son-in-law, Dwight sold him a black Chrysle , Mac and Mildred drove to California to see daughter Mary's family and son Jimmy and his sons. With Dwight's encouragement, Mac also bought a home on Beatrice Avenue. It was a friendly home with trees, violets, and a large front porch. Mac took much pride in the house and it was while painting the exterior that he was attacked by bees and fell off a ladder. With a broken hip his recovery was slow and he walked with the aid of crutches. On Christmas Eve of 1957, Mac started up the stairs ·on his crutches, he lost his balance and fell backwards hitting his head.
Hugh McGilvery was buried at Calvary Cemetery in Dayton, Ohio.
Resources
Adele Hilgeford, daughter
Hugh McGilvery II, son
Florence Minch, TX
Louise O'Brien, Dayton, OH
Bob Daly, brother-in-law
Military Records
NCR Factory News