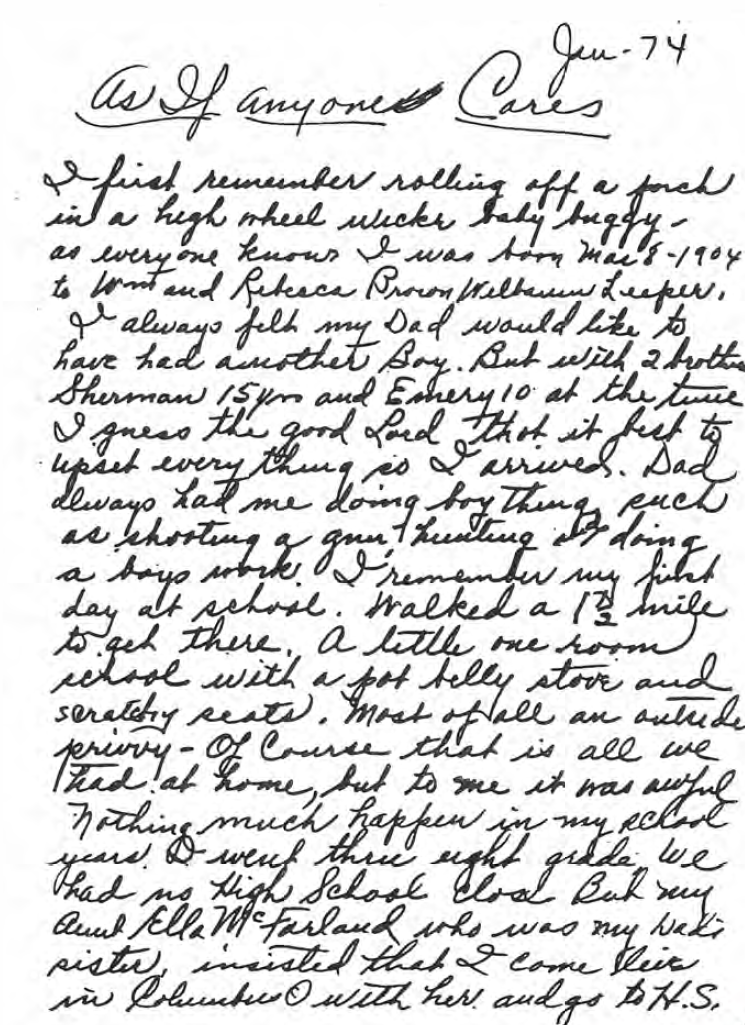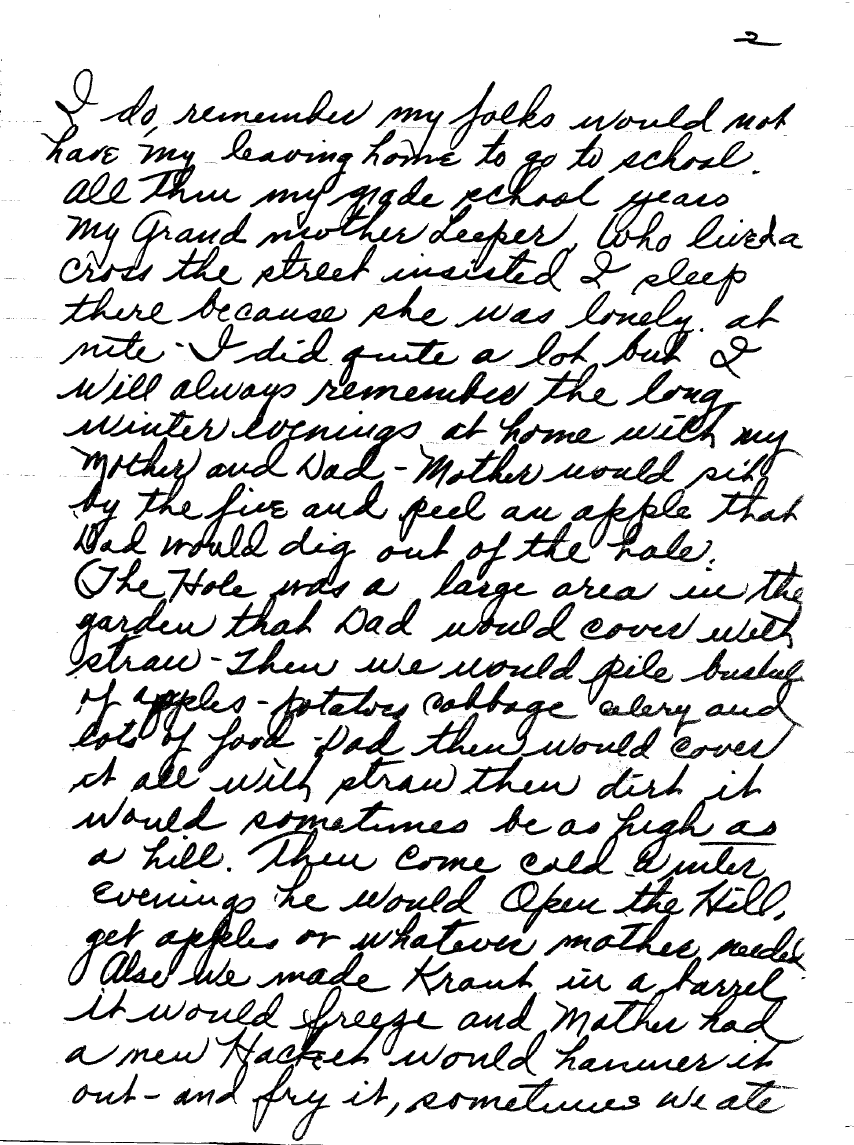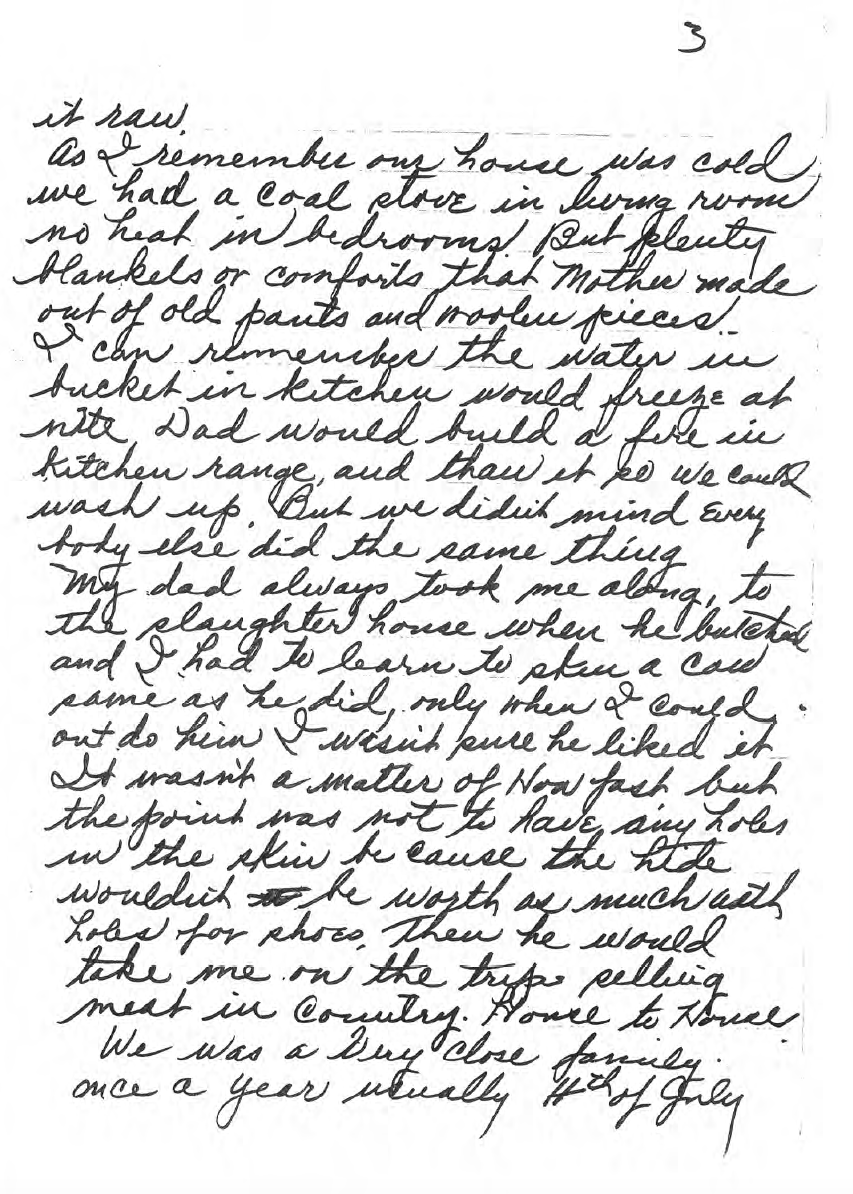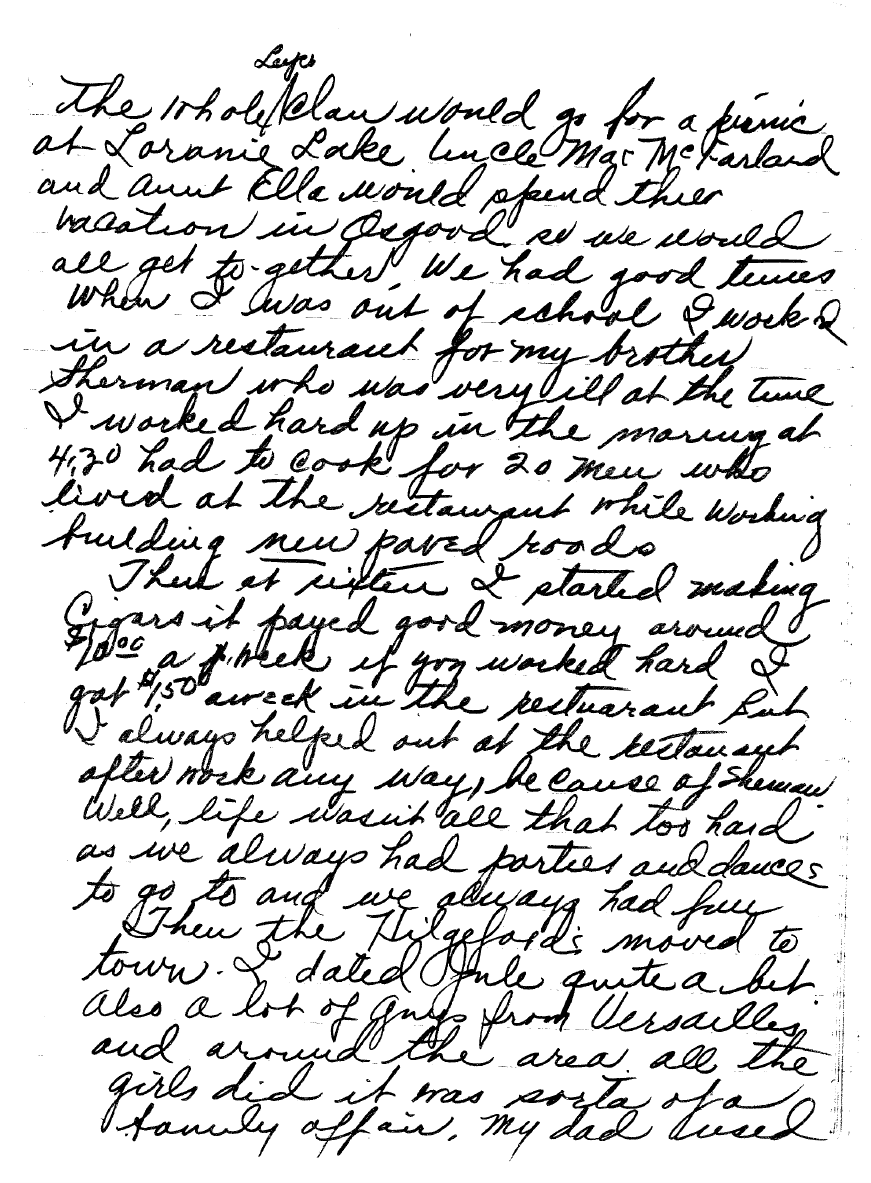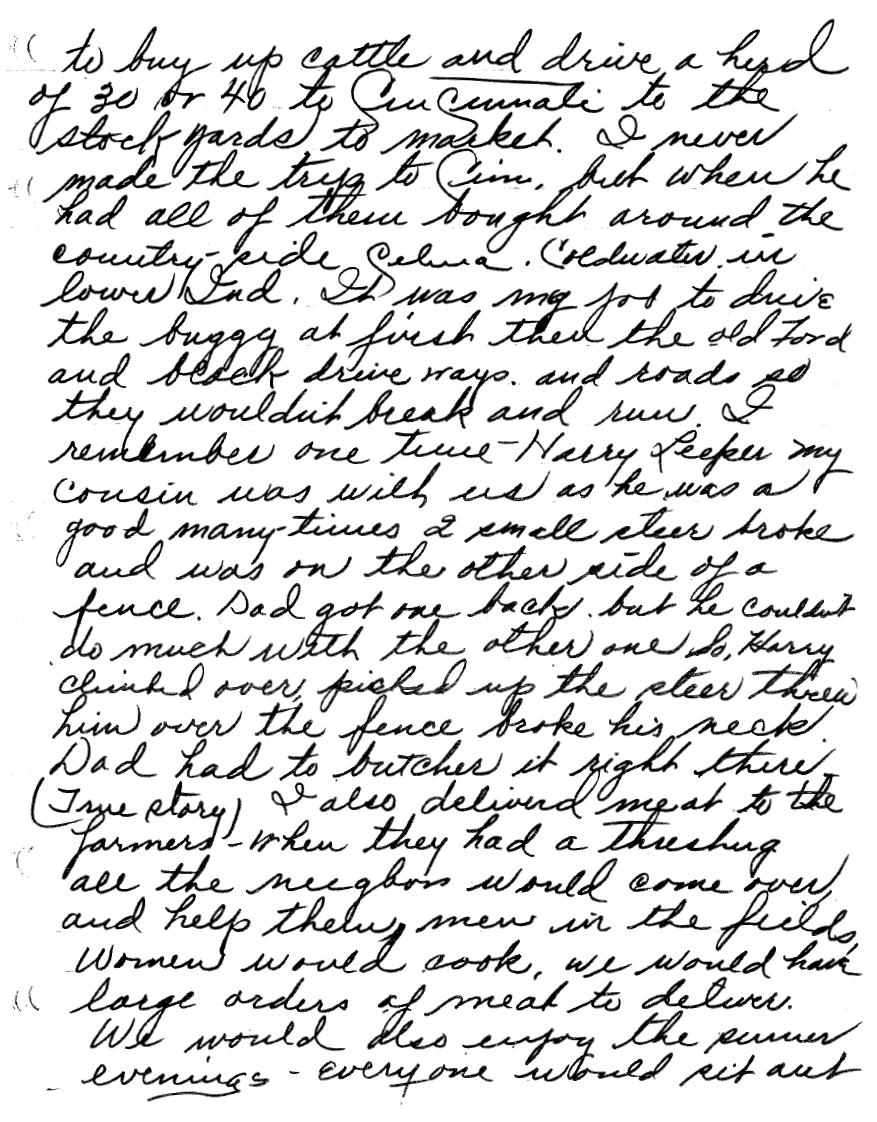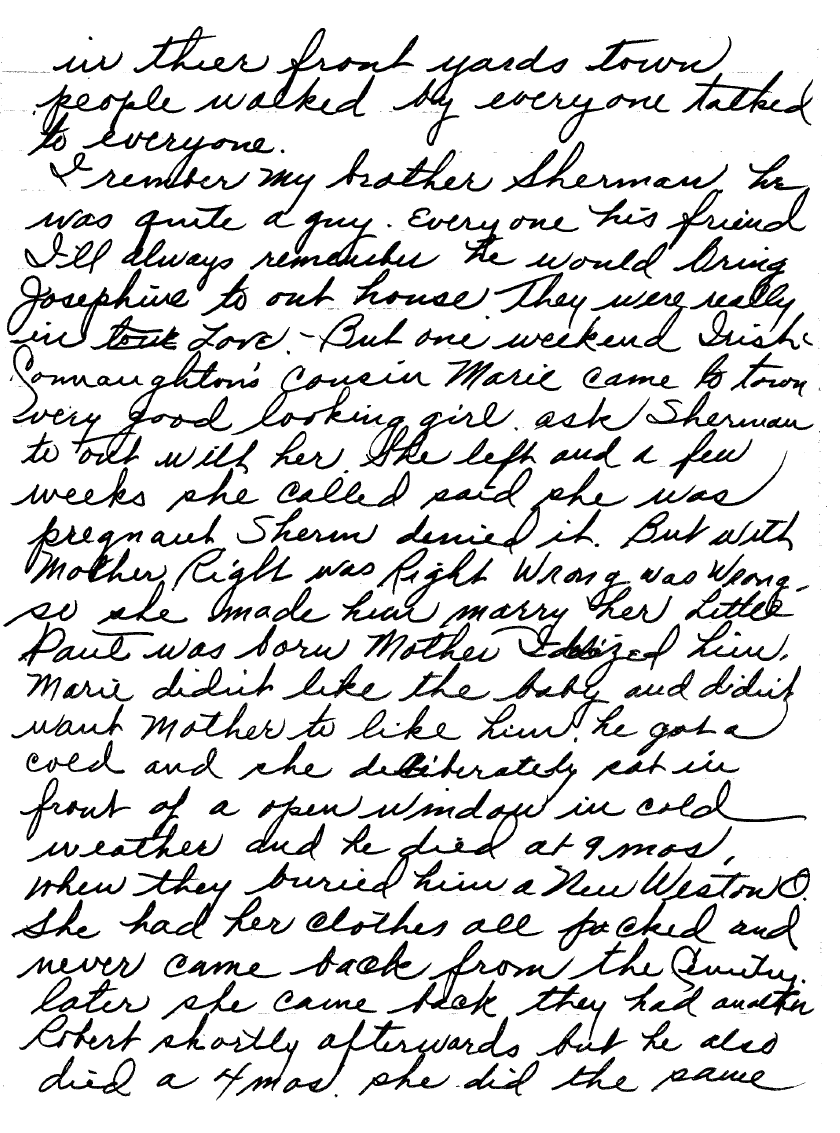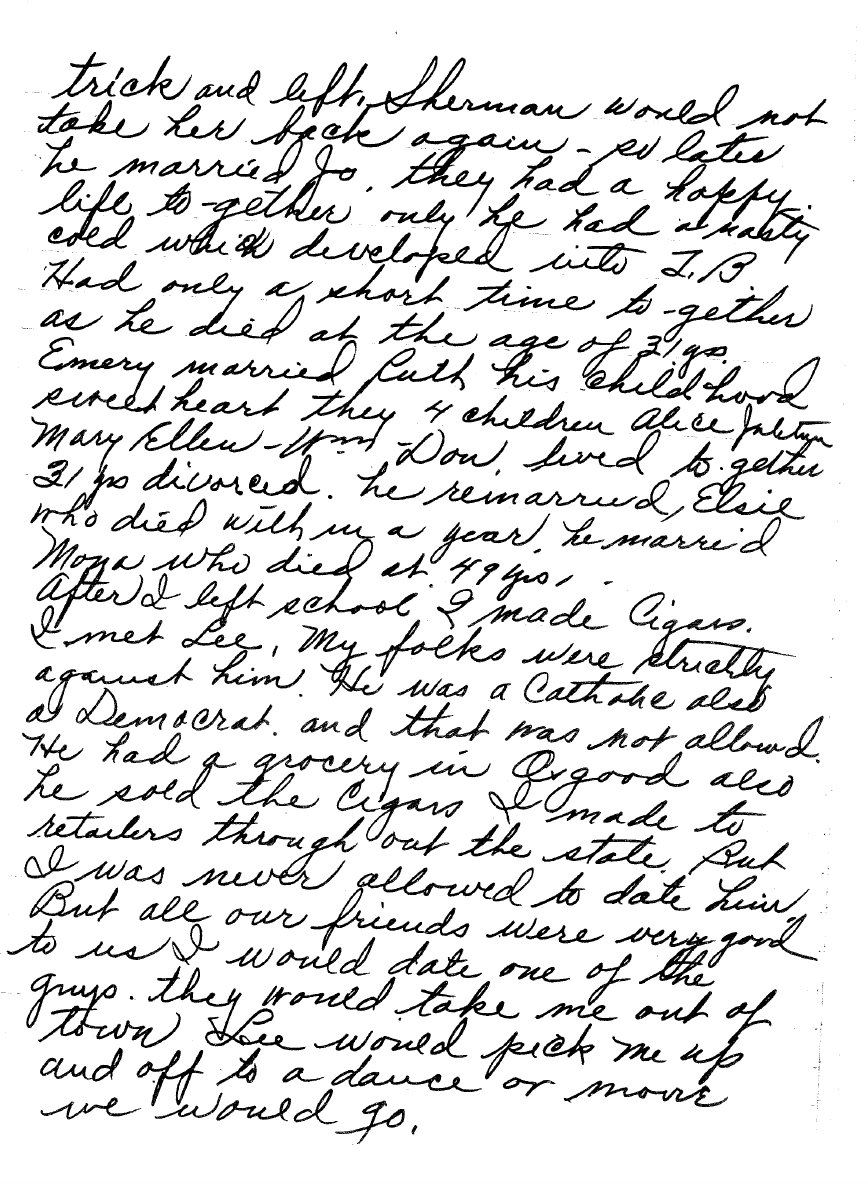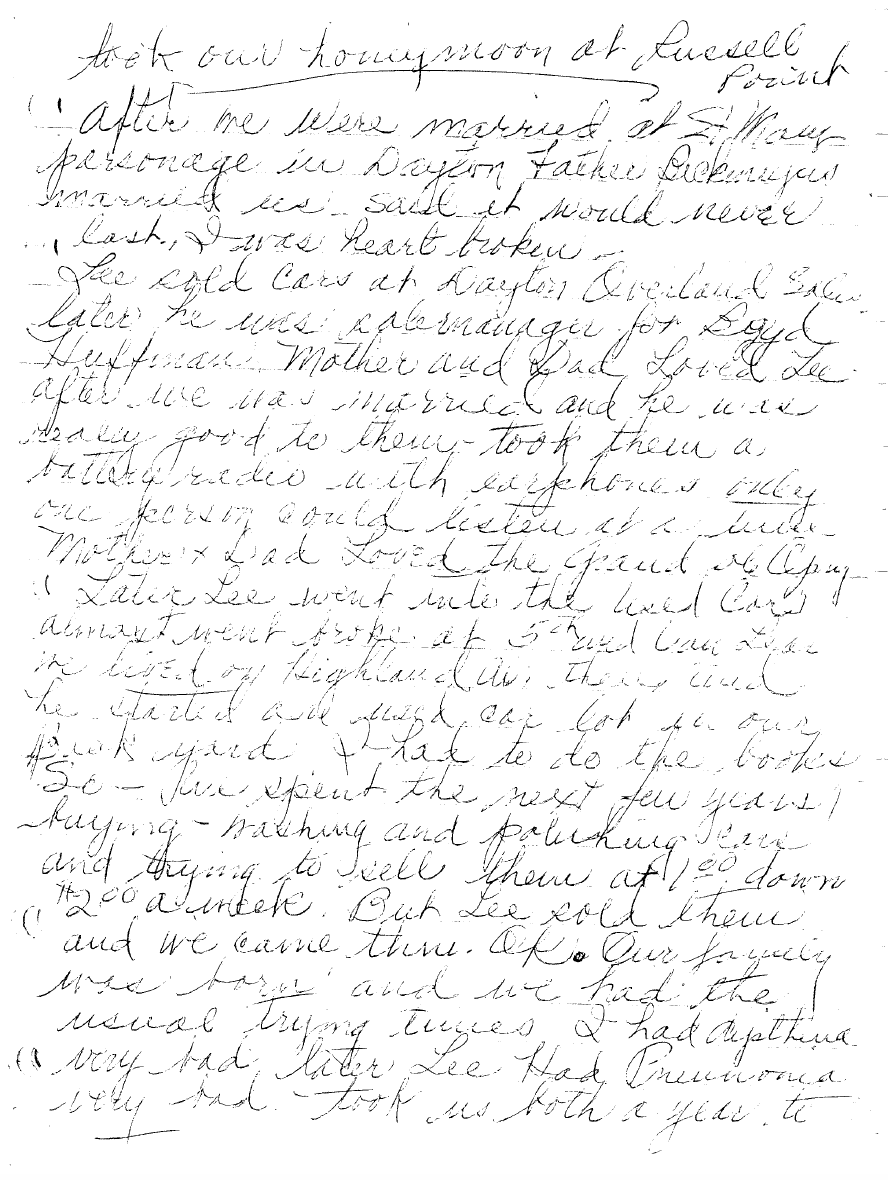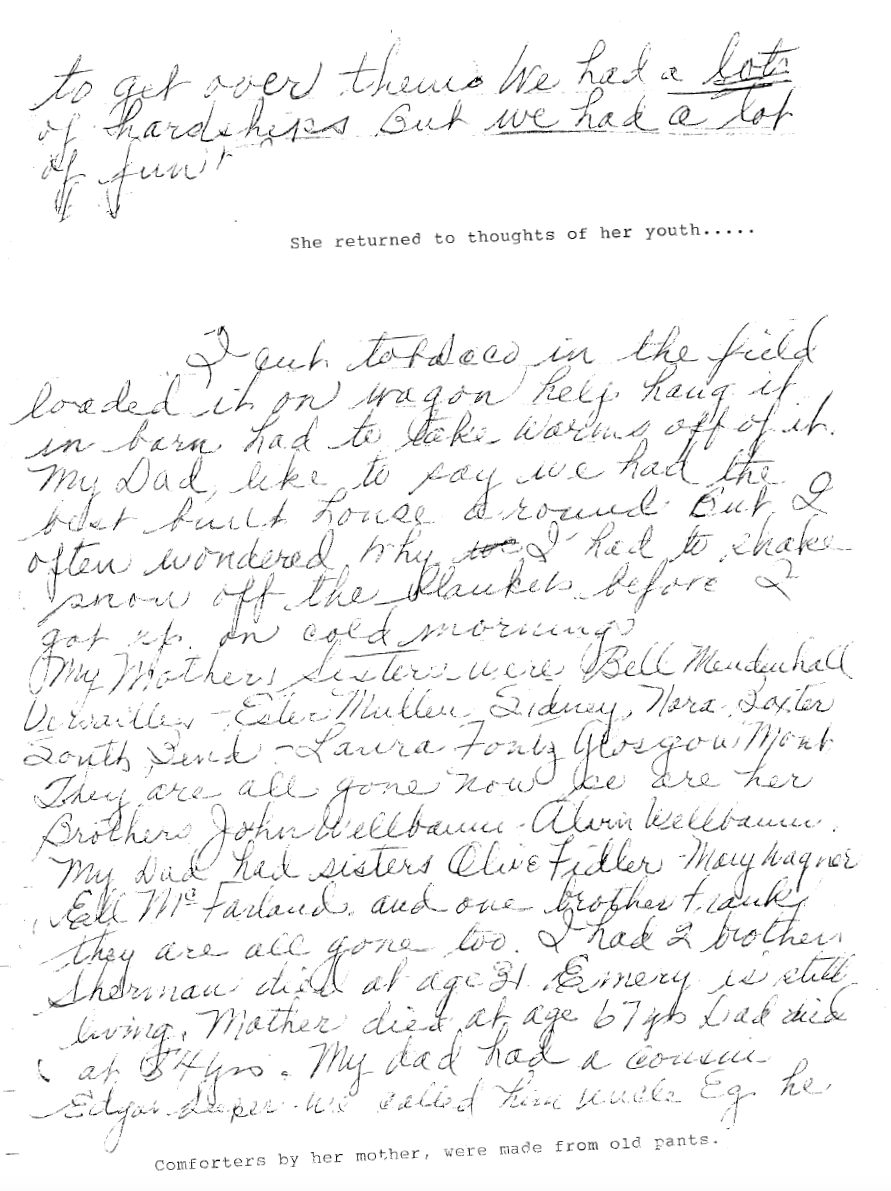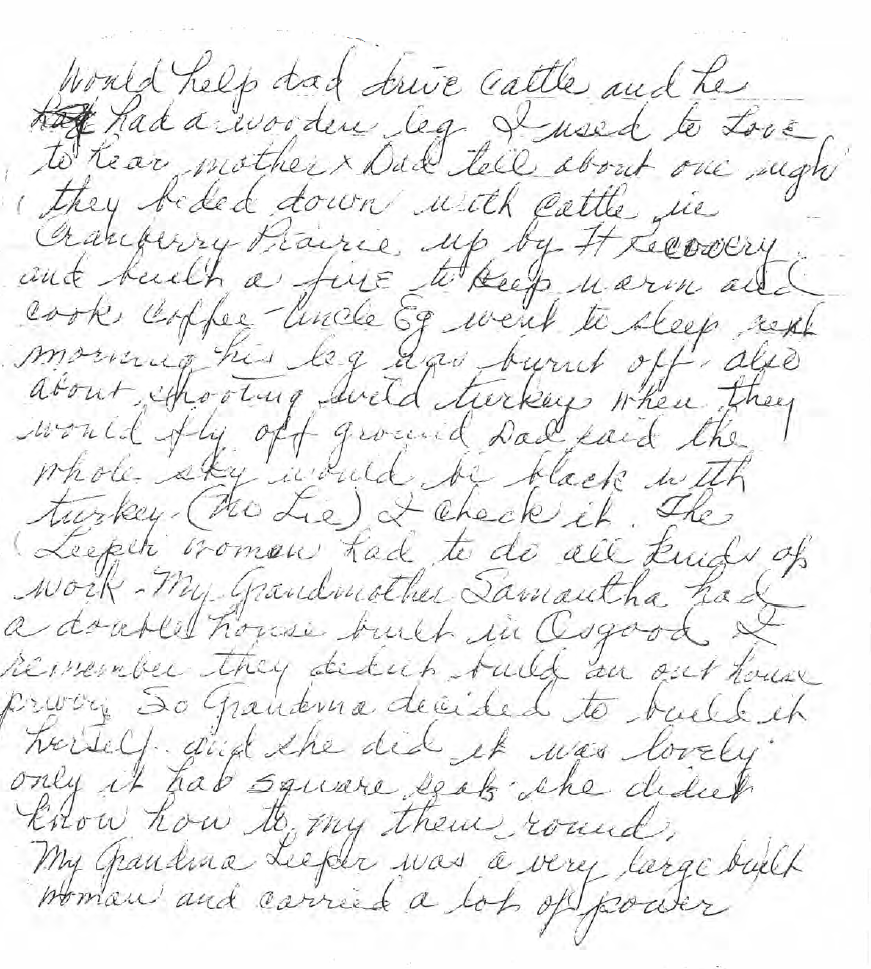 As a child Alma took baths once a week as was the custom. Other mornings she remembered her father cracking ice from the basin so the family could wash. Alma's family never had a Christmas tree because of religious beliefs. Her first Easter basket was given to her by a neighbor over the fence.
During the years Alma dated, transportation was usually by wagon or sleigh. She often told of the night when she, her date, and another couple were rushing home. The horse was pulling the sleigh very fast through the snow and an accident occurred. Alma's lip bled but there were no major injuries, although they were frightened. All decided never to tell their parents.

Alma's first date with the red haired Lee Hilgeford was a double date with his sister, Cincy and a friend. They drove to Cincinnati to pick up a load of watermelons for Lee's grocery in Osgood. Their love grew and soon they eloped which was against her parents wishes. It was on the way home from their honeymoon that they passed her parents on the road. A scared Alma and Lee stopped their car and were surprised when Bill Leeper asked them to visit. This visit turned out to be a warm welcome for Lee into the family.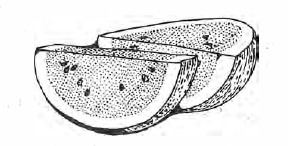 The Depression years were very hard. Lee came down with pneumonia and was gravely ill. Nurses were hired so that Alma could run their used car business. People could not keep up with payments and brought cars back. Alma remembered borrowing $250, with just her signature, from a bank to keep the business going. Her parents gave them lard, bacon, and soap when they could. During this time Alma would make Depression plants from coal to sit on her table. When she and her friends would play cards, old cards were cut up and used as chips.
Mac, as Alma was called as an adult, enjoyed her place in the business world and worked long hours beside Lee. At Lee Hilgeford Auto Sales, she ran the parts department and did title work. During regional meetings for Chrysler the opening address was always started, "Gentlemen and Mrs. Hilgeford."
Company picnics were held at Mac and Lee's West Milton farm. There friends and employees played baseball and horseshoes. They also enjoyed Mac's home cooking, as she returned to the kitchen to bake hams, make stew, or fry at least eighteen chickens!
After her retirement, Mac opened a gift shop in an extra room of the grand old barn at the Hilgeford home on Belfontaine Road. Christmas wreaths and arrangements of wood, figurines, and greenery which she made were sold. Through her shop she supplied Hummel figures to such stores as Rikes, a Dayton department store.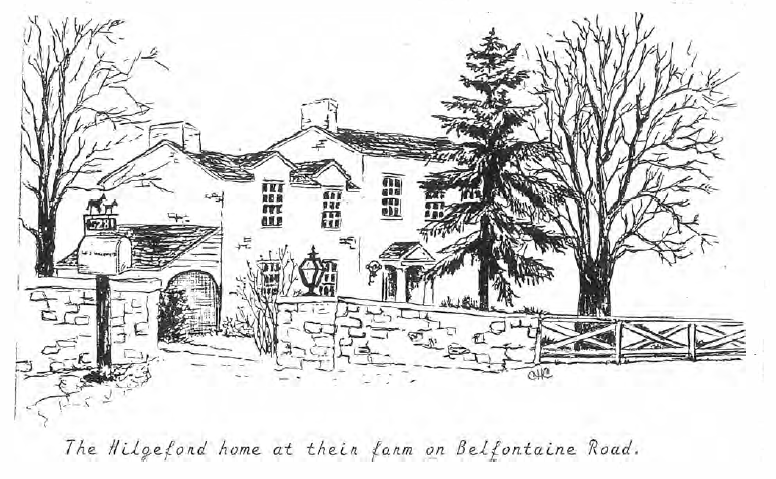 Grandchildren affectionately called Mac, Mammy; and they and other family members were the greatest beneficiaries of her talent. Mammy croceted blankets and hats for the babies and comforters for the adults. Granddaughters received patchwork pillows and potholders. Dresses were made for the younger girls. At Christmas her tree was full of homemade ornaments. Mammy had a special way of making babies from socks. An the greatest effort of all were her china dolls. Much like the doll she played with as a child, Mammy sent for the china heads, arms, and feet. She sewed up the bodies and daughters, daughters-in-law, and granddaughters all chose a fabric for their doll's dress. In all Mammy finished fifteen babies and all were cherished.
During Christmas Mammy decorated the stairway of her home with choir boy dolls. She had sewed each outfit and positioned their hands to hold small books she had made. They led up each stair to the large manger scene at the top. Certainly breathtaking for all who entered the front door.

Mammy was a member of the Dayton Business Women's Noon Time Club for years. They met at the Van Cleve Hotel for lunch and were involved in special projects. Gifts may have been sent to the Dayton Poor House or Correctional Facility or beauty operators sent to style the poor women's hair. A Christmas party was held every year and Mammy always made the table decorations.
Children and grandchildren were a source of pride for Mammy. She tried to help whenever possible. On one occasion Mammy was helping daughter, Jerry, take her twins, Lisa and Linda to the doctor. She was holding Lisa when she missed a step and fell. Mammy protected the baby from harm but her knee was broken and would be a problem for the rest of her life.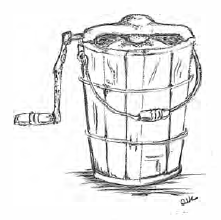 No matter where Mammy and Daddy Lee lived there was a swimming pool for their family to use. It was a fun gathering place and sometimes Mammy would make ice creme. One time the ice creme tasted different, but Mammy said it was a new flavor called "Burnt Almond". The grandchildren did not understand but immediately the adults started teasing Mammy. Her children remembered the winter she had made and and stored ice creme in the freezer. All winter they ate the ice creme but made it clear Burnt Almond was not their favorite flavor. It was finally learned that Burnt Almond ice creme was actually ice creme that had been burned during its making! Here Mammy had tried to cover her mistake and was trying it again with all her grandchildren!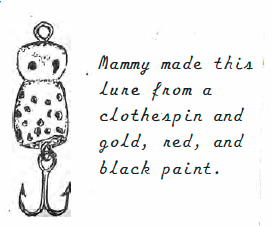 Even before the cottage on Clear Lake in Three Rivers, Michigan had been purchased, Mammy enjoyed fishing. It was probably an, interest she picked up from her father. At Clear Lake the fish were abundant and fish frys so good! There wasn't a telephone in the cottage so time spent there was very relaxing. Mammy would cast off the end of the pier and on one evening' she hooked what she had been waiting for, at least an eight pound bass! She had it stuffed and hung it above the mantle at home. Mammy did catch a bigger fish though, on a trip to Florida with son, Dwight, and grandson, Patrick. While deep sea fishing off the coast of Ft. Myers Beach, she brought in a grouper which was close to 300 pounds!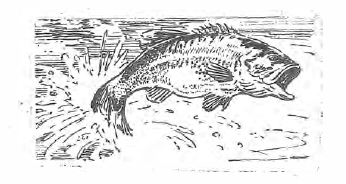 Mammy and Daddy Lee vacationed in Florida every winter. They eventually bought a home and motel on Ft. Myers Beach. Their children and families visited every year. More excitement was to come to Mammy's life during her vacations there. At seventy-seven years of age she took her first motorcycle ride with son Tom. Many Sunday evenings were spent dancing at a local
restaurant where a bluegrass band played. Mammy always fixed her hair and put on lip stick. Family members kept her dancing and all their antics kept them all laughing. Her sore leg would take days to recuperate.
Another adventure brought Mammy to the shores of the deserted Black Island where Dwight had decided to take the family shelling. The tide was low and everyone had to wade or swim to get there. Mammy wasn't a swimmer and didn't like the idea but there was no choice when Dwight started tying a rope around her. He pulled her through the deep parts and she laughed and hollered the entire way! Another time Dwight and Mammy waded out in the gulf to see Pat and his friends who were in a speed boat called the Black Jack. Suddenly Dwight lifted her up to Pat and off they sped with Mammy yelling in the back seat!
Mammy accompanied Dwight on a business trip to Colorado while he was on crutches after breaking his hip. She helped travel to his different ranches and they stayed in a log cabin on the Keyah Grande. When a torrential rain started they knew a flash flood was possible so Mammy drove the Jeep through the darkness out of the mountains over rough, steep terrain and slippery roads to safety. She was seventy-two years old.
Mac and Lee's children held a special reception in honor of their parents 50th Anniversary.Family and friends gathered to celebrate. They dined, danced and reminisced. The hall was decorated with large gold number· fifties and poster size pictures of Mac and Lee's wedding, romance,and life together. Mac wore a full length light blue gown and was radiant.
Lavender was Mammy's favorite color and she filled her homes and life with it. She had a beautiful laugh and always, a twinkle in her eye. Prayers, proverbs, and magazine clippings were taped everywhere but usually on mirrors and the refrigerator. The messages were always clear, love and friendship.Always loving and sympathetic, Mammy had been mother to four children, eighteen grandchildren, and eleven great-grandchildren. In July of 1982, at the age of seventy-eight, Mammy suffered a major stroke which left her partially paralyzed. She was brought home to Lee and cared for by many. During her last years she enjoyed watching the Grand 01′ Opry on television and being taken out for visits in her wheelchair.Alma McFay Hilgeford was born March 8, 1904 and passed away on July 19, 1986. Her parents were William and Rebecca Leeper. She is buried beside Lee at Calvery Cemetery in Dayton, Ohio.
Resources
Alma Hilgeford
Dwight Hilgeford, Son
Geraldine Rowe, daughter
Christine Hilgeford Connor, granddaughter