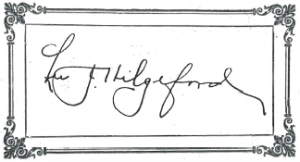 For seven-year-old Leo Hilgeford the ringing of the bells at St. Michaels Church were a harsh reality and a caution for he and his brothers to stay in the house. Many homes were quarantined because of the deadly disease, diphtheria. Each time the bells rang Lee would count the number of his friends that died.
It was the early 1900's and for a red haired, freckled Leo life was an adventure. He spent most of his childhood tagging along with his father whom he idolized. His family spoke Low German, a dialect of the German language that could not be written, and Leo did not learn to speak English until he started St. Michael's school.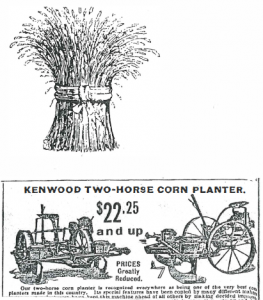 At 14, Leo's responsibilities included helping his father on the newly acquired old Hilgefort farm. Every morning at 5:30 he would give the horses 3-8 ears of command. some hay. After eating his own breakfast Leo would go back out to the barn and harness up. Spring days were long; a spring tooth harrow was used to jerk the ground in the fields loose and a disc to refine the soil. Leo was careful to guide the horses away from the hornet's nest located in one comer of the farm. When it was finally time to plant, a com planter was used for the com and a drill for the oats. With this completed and summer arriving Leo had more time to relax and spend his idle time painting his name on a beam of the barn. Fall was another busy time, Leo, his father, and his brother, Jule would use a binder to cut down the crops, which were then stacked in shocks and allowed to dry 3-12 days. Thrashing day was a big event and all the neighbors would come to help. The women would cook large meals while the men loaded the crops on a flat bottom wagon. The crops were then fed into the thrashing machine which would sort the grain and blow straw into the loft of the barn. On this day, Leo was water boy and Leo would have to climb the ladder to the loft where some of the men were working and then give them a drink of whiskey.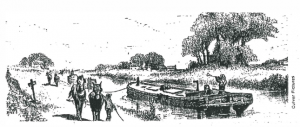 The winters in Ft. Loramie were bitter cold but Leo and his friends looked forward to skating on the canal down to the basinburg, which was a place for the canal boats to turn around. They would skate after dark and quietly stay in a straight line so that all that could be heard was the "swoosh-swoosh" of their skates.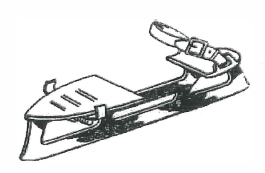 At 17, Leo was considered very enterprising. A born salesman he sold everything from folding bathtubs to pills for chickens. The pills made chickens lay more eggs and sold for a penny. The secret was the salt content which made the chickens drink more water and consequently lay more eggs.
One day while working in the fields, Lee suddenly stopped and told his father he didn't want to farm anymore. He explained he wanted to go to school and so ended his farming days. Lee went to Dayton and lived at the YMCA while he studied at Miami Jacobs Business School from where he graduated.
In 1919, Lee became associated with the George Hartsel Propeller Company in Piqua. There he sold wooden propellers for airplanes. He bought the Ft. Loramie Hotel in 1920, which he then sold when he moved to Osgood. There he operated a grocery store for two years. It was during this time that Lee bought a Model T and started going to barn dances. Admission was only 25 cents and then the beer was free. There was always a band and couples danced the Two Step and the Waltz. Sadly farmers later stopped having barn dances as cigarettes gained in popularity and a few barns burned down.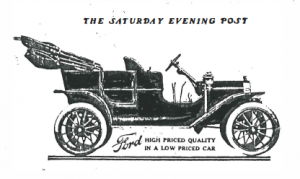 Lee's Osgood grocery was located across the street from Alma Leeper's home. It wasn't long before he asked her for a date which they spent driving to Cincinnati with his sister, Cincy and her date. There they picked up watermelons for his grocery. The relationship grew in secrecy for her parents did not approve of Lee. He said it was because he was a Catholic, a democrat, and drank beer. They had no idea he would soon be their son-in law for on June 21, 1923 they eloped!
Lee's Model T could hold 10,000 American Beauty Cigars and after he sold the grocery he drove all over Ohio and Indiana selling them. At the same time he put slot machines and punch boards in saloons, dividing all the proceeds between the merchants, himself and the supplier.
After moving to Dayton in 1923, Lee heard of an opportunity to sell cars at Dayton Overland Sales. He took a course in sales and was one of ninety-nine who applied for 11 positions. When he was not chosen a disappointed Lee inquired; impressed with his aggressiveness Lee was then hired!
Lee then became sales manager at the L. Boyd Huffman Motor Co. There he sold Willys-Knights to people such as Governor Cox and Wilbur Wright. Lee would always remember a friendly argument he had with Mr. Wright. After driving up the steep hill to Wilbur's home in Dayton, his visit became mildly heated over an issue concerning a new bank policy. Wilbur thought the idea of a bank paying interest on a savings account was ridiculous. Lee defended the idea seeing interest as being beneficial to the banks as well as the people. Luckily this didn't affect their car sales!
The car business was something Lee understood and after leaving Huffman he and Alma (Mac) started their own used car lot under the name of Lee Hilgeford Auto S ales. It was located on Van Lear Street in Dayton. But the economy soon crumbled as the Depression hit forcing Lee and Mac to bring all the cars home to their own backyard and repossess others. Here they fought to keep their business alive and small family together. Lee suffered through pneumonia as Mac worked. Lee was also a distributor of War Ration stamps.

All their efforts proved beneficial and Lee was soon looking for another place to do business. He found an old school house with no windows on the comer of Neff Rd. and North Dixie Avenue. (New Troy Pike). Jule told him it looked like a "pile of bricks" but after remodeling the business flourished. Lee and Alma built a Tudor style home on Neff Rd. so their family could be close. At the time this area was still very much in the country.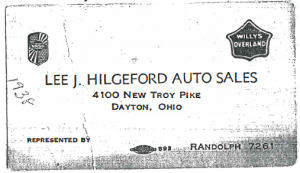 He next moved the auto sales to a lot on the comer of Keowee and Webster Streets here business was good until World War II started. Nash wanted Lee to build a bigger building but because of the war it was hard to buy steel. The Nash zone manager from Cincinnati was very hard to deal with, as far as he was concerned it there was not a · building there was no contract. Disheartened and out of business Lee and Mac drove home from Cincinnati. They stopped in Sharonville and sat on a park bench. After crying and talking for hours Lee decided to go straight to the top and so they were off to the Pentagon the next day.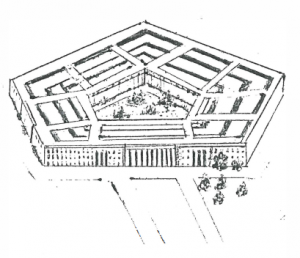 In Washington D. C., Lee and Mac wandered around the Pentagon until they finally met Mr. Small who was the head of steel. Mr. Small was very sympathetic and understood their situation. According to Lee Mr. Small told him, " You and your wife go home and wait. As of Monday morning Nash will not get anymore steel to build another car.". It was Thursday and they drove home in disbelief. Early Monday morning the zone manager came to Dayton and informed Lee and Mac their contract had been renewed but not because Nash liked them…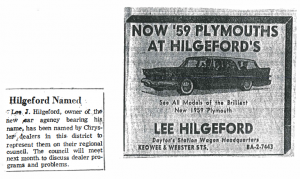 In 1949, Lee gave a roadman from Nash $5.00 for getting him a franchise for Chrysler and the auto sales continued to grow. Lee was an exceptionally good businessman and fortunate to have teamed up with Ollie Heidenreich who had married his sister Cresenthia (Cincy). Ollie complimented what Lee was trying to achieve. The business continually was in the top 5 on the list of used cars sold in Montgomery, Co. Lee's son, Dwight had said they were the best car men in the State of Ohio.
Finding used cars to supply the auto sales required extensive travel. Lee knew all the dealerships and car lots in the northern counties and felt the used cars he could buy there would be in good condition. He reasoned that the northern land was flat and in southern Ohio and Kentucky the hilly terrain stressed the cars. Family members and employees were used to driving the cars back down to Dayton.
Mac continued to work with Lee at first running the parts department and then handling the bookkeeping. Elaborate Christmas parties were given each year for employees where Santa would arrive with toys for the children and hams for the adults. Picnics at their West Milton farm were held throughout the summers and Mac would usually fry chicken. Dwight remembered both his parents stepping up to bat in the baseball games. Employees and friends would al so fish in the Stillwater River. Lee's sons and son-in-laws would all receive a start at Lee Hilgeford Auto Sales. Dwight later bought the business from his father allowing Lee to retire.
Always the salesman Lee also helped his friend Pat Hammond start The Slot Wing Kite Co. This was before there were a wide variety of kites and this triangular shaped kite's design allowed for air to pass through it. They were sold in local groceries. Dwight would always say Lee could always read people well. A good trait to have for a salesman.
Lee may have sold the auto agency to Dwight but together they went on to develop the first commercial property in Huber Heights, Ohio. In their daily meetings they decided to build a new road through a ditch on Lee's Belfontaine Rd. farm. This new road was an extension of Nebraska Avenue. And allowed them to lease the land for a small market, service station, Howard's Pharmacy, a car wash, bowling alley and skating rink. Creativity was a key as they pursued the businesses that would best serve the new community of Huber Heights. Dwight was developing his adjacent acreage at the same time. It was not easy as they faced major zoning battles in Wayne Township. New zoning laws were being introduced into the agricultural township. Farmers would not be permitted to use their land as they wanted. Lee and Dwight decided that Dwight should go ahead with his plans to build a small strip center. A foundation was poured and it secured the development of their farms before the zoning laws were passed.
A bank was next on Lee and Dwight's agenda and they were off to Columbus to apply for a bank charter. Many steps were involved in this process and the selling of stock was a major task because one person was not allowed to own more than 10% of the stock in the bank. Board members were selected from local businessmen and Community State bank was finally established and was located right behind Dwight's house on Brandt Pike. It was the first bank in Huber Heights and was eventually sold to National Bank of Dayton at a considerable profit.
Family could be considered Lee's hobby as much of his free time was spent with them. Daughter Jerry remembered the wonderful trips she took with her parents. They went on a cruise to Bermuda and visited close friends Frank and Eddie Myers in Canada. There they fished for walleye and stayed in a very primitive cabin. On a trip to Sanibel Island in Florida the ferry broke down so the three of them waited in a tavern where they talked with some old ladies. The uninhibited women who did not wear clothes on their top of their bodies and lived on the island were descendants of the pirate Gasparilla and his captive girls.
When Jerry and Wilbur with their family moved to Legend Hall Farm in New Carlisle Mammy and Daddy Lee, as the grandchildren called them, would often come up and play Euchre. Lee once had to rescue Jerry from snakes in her basement. And as Jerry and Wilbur would work on their farm she would often hear Will say, "You know where I learned that? From your dad." Lee's old farming skills were used again.
I will always remember hearing of the time when Daddy Lee and Mammy were going to a dinner at the Miami Valley Country Club. Mammy was not happy with how Daddy Lee had fixed his tie. She knew Carl Oberer would be there and told him he wouldn't look good. To which Daddy Lee replied, "Good that will make him feel better. " Daddy Lee didn't really care about impressing anyone. When he was asked by the township to name a new school after him he declined. It is now Weisenborn School.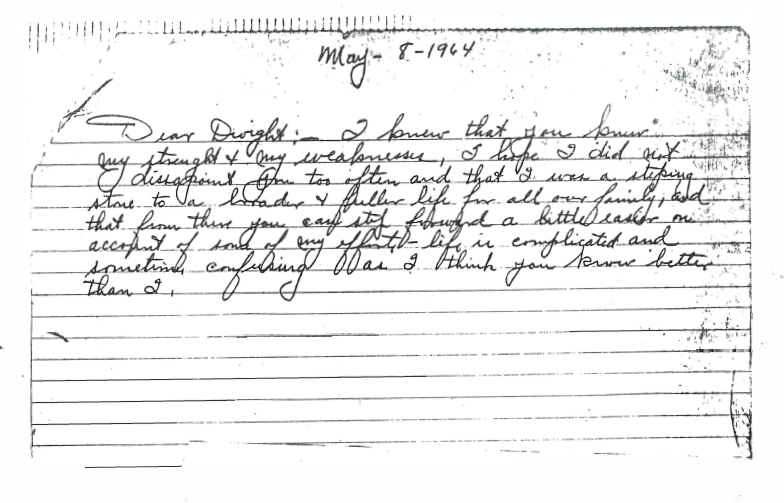 Daddy Lee and Mammy always wanted their family to be happy and one year surprised them with a cottage on Clear Lake in Three Rivers, Michigan. Now many vacations were taken there, time was shared between the four children's families and friends. Fishing was the big entertainment and you could count hundred's of rowboats finding their fishing holes every evening. Daddy Lee was not a big fisherman but always ready when the boat came home to clean the fish. Mosquitoes never bothered him! Several years after the cottage was purchased the lake rose. During this flood, which lasted a couple of years a boat, had to be used to get to the door! Daddy Lee and his neighbor Eric decided something had to be done. After a meeting with all of the neighbors around the lake it was decided a tile would be put in the northeast side of the lake to allow for drainage. However, nobody wanted to pay for it and Daddy Lee ended up paying $600 for the tile and installation. Children would always remember Daddy lee and Mammy visiting on their vacations. Daddy Lee used to baby-sit the Rowe girls while Mammy went fishing with Wilbur and Jerry. They enjoyed this and thought he was funny. Dwight's family played nightly games of gin with Mammy. Maybe everyone was closer because there was no television.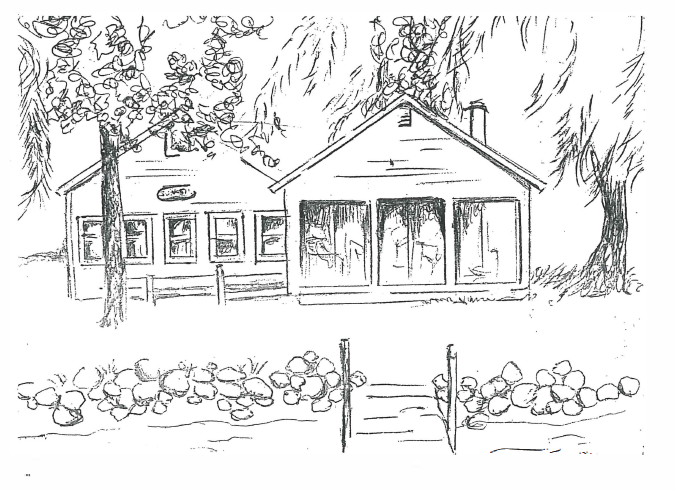 After Christmas Daddy Lee and Mammy would spend the next three months in Florida. I always remember Christmas eves as being bittersweet as I didn't want them to leave. At first they would often stay in St. Petersburg but eventually purchased a home and motel, The Riptide on Ft. Myers Beach. Again the families would come to vacation and loved the beach. Grandchildren rising at dawn to comb the beach for seashells. Mammy would then help them make animals, dolls or jewelry from their shells. It also gave them time to be near their son, Tom who captained a shrimp boat there. Daddy Lee liked to take daily walks up the beach to get a beer. And many times were spent at a local tavern, The Pit dancing with Jerry, Dwight's wife, Adele and granddaughters. How Daddy Lee like to dance and reminisce about the barn dances of years ago. Once when Mammy and Dwight thought Daddy Lee had a "spell" they took him to the hospital over much protesting. He knew his potassium levels were off and he needed a banana. After checking him in and driving home they were shocked to see that he had beat them home! He had left the hospital and taken a cab! Another Florida incident occurred when Dwight went to the Ft. Myers courthouse. Daddy Lee and Mammy rode along while she waited in the backseat of the car he stood outside and was accosted by a teenage boy who held a knife to Daddy Lee's stomach. Mammy was terrified as she heard the boy demand a wallet but Daddy Lee was outraged and started shouting "Why aren't you in school?" repeatedly. An amazed Mammy watched as the boy ran away!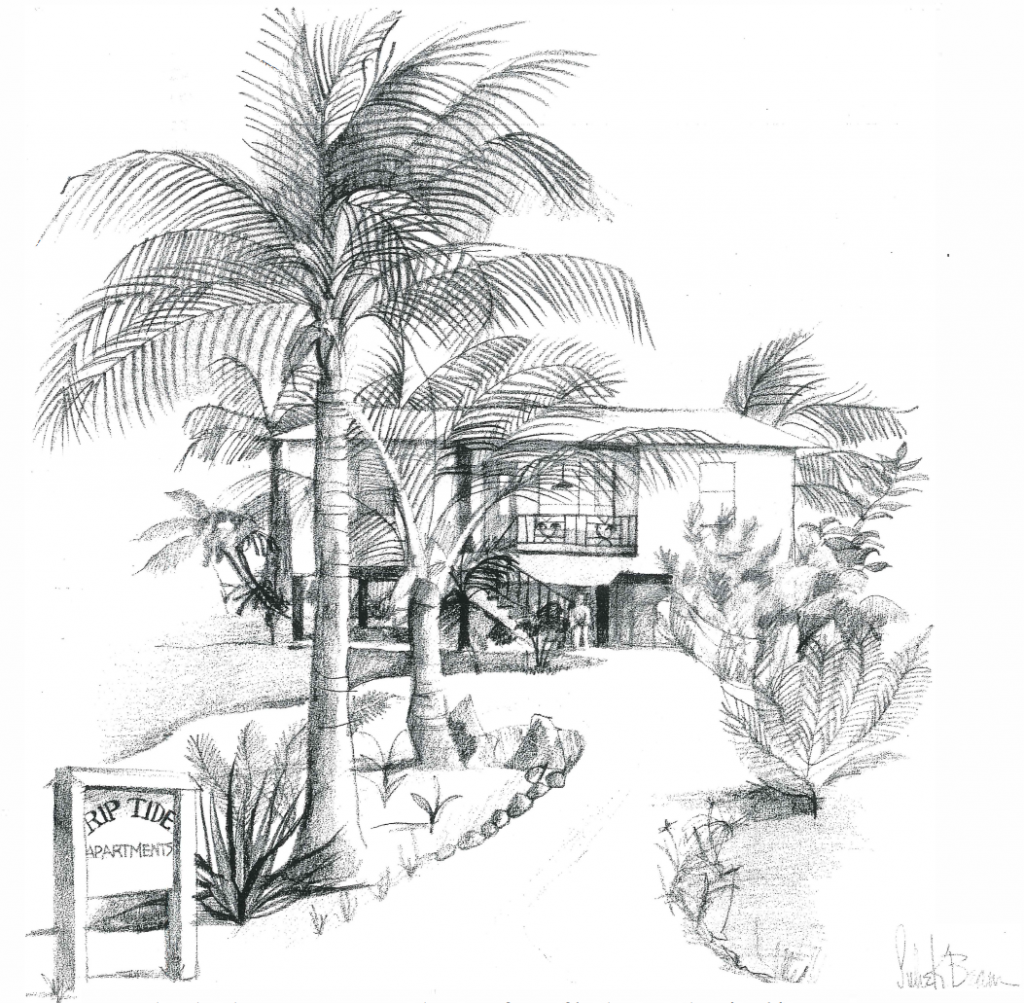 Daddy Lee and Mammy's last home was in Tipp City, Ohio. It had a large enclosed back sunroom where Daddy Lee could visit daily with his large family. It was. also a good place to dance with them! Sometimes Daddy Lee could be found walking to town to get a beer. I remember him explaining once how your body gets old but your brain still thinks young. He continued to have his spells and died after a fall at his home on August 2, 1 98 5. He was born on September 1, 1 898 and would have been 87 on his birthday.
Resources:
Lee Hilgeford
Alma Hilgeford
Dwight Hilgeford
Jerry Rowe
Journal Herald
Dayton Daily News