Johann Michael Drees was born September 9, 1851, in Minister, Ohio, the son of Johann Michael Drees and Maria Wellerding Drees.
Mike attended school until he was fourteen and enjoyed squirrel hunting in his youth. Squirrels, rabbits, turkeys, and quail were abundant and proved to be a great Sunday sport for those around Minister. However, Mike never remembered seeing deer.
Mike married Mary Gertrude Berning in 1876 at St Augustine Church in Minister. They had a daughter, Katherine Bernadine, who was born on May 17, 1878. Mary died almost two years later on February 2, 1880. He later married Mary Wilkins and they had eight children.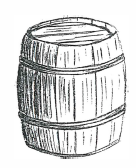 A farmer until he was 21 years, Mike then decided to try the cooperage business. After two years of building wooden barrels he went back to farming. He would often take vegetables to Sidney on his wagon to sell. While farming, Mike also held many public offices; assessor, school director, and land appraiser. He recalled walking the length and breadth of Van Buren Township four times, as he performed his public duties of census taker and land appraiser at the age of 69.
For twenty two years Mike also enjoyed be ing the correspondent from McCartyville for the Minister Post. Every week he would write of the happenings of his neighbors and community. His articles were always in German until the "Post" adopted the language of the country. This transition proved very difficult for Mike but in his old age he admitted the English language flowed from his tongue in a way that could not have been I believed twenty years earlier. Prior to this job, Mike wrote for the German newspaper, "Anzeiger", which was published in Sidney.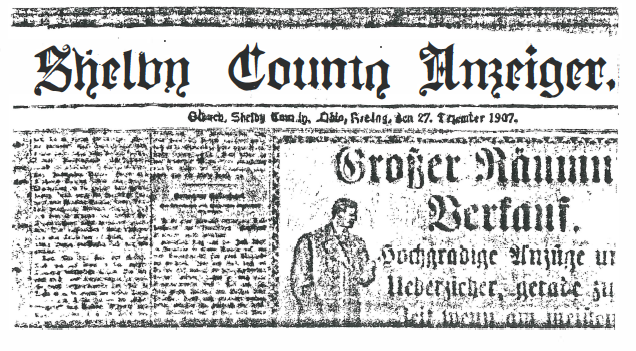 A life long Democrat, Mike voted as such as many as nineteen times. He credited President Franklin Roosevelt for better times reasoning that farmers had more money to spend for farm implements.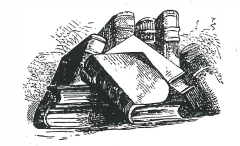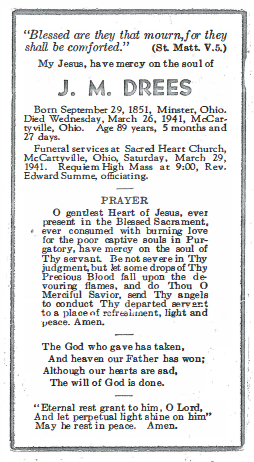 Grandson Lee Hilgeford remembered Mike hunting for mushrooms in the spring and selling them to an attorney in Sidney for a penny each. He also remembered Mike taking daily one mile walks with his cane and drinking his daily beer to which he credited his longevity. Mike had his own perceptions of the changing times. He had no use for the tractor, saying it packed the soil down. He also felt it took away from the land where as a horse added to it! He remembered the good old days fondly saying they were the best for amusement. Boys could have more fun with less fuss, traveling around, and money. He did feel that people were healthier since the coming of the automobile because there wasn't as much intermarriage in a community.
Mike and Mary spent their later years living with their son Joseph. His chief occupation being watching the cows along the road. He also liked to read and used the school library at McCartyville. "Old Mike" passed away on March 26, 1941.
Resources:
Lee Hilgeford, grandson
The Minster Post, 7/17/1936
Rita and David Hoying, Minster, OH
Karen Anthony, Ft. Loramie, OH
Ft. Loramie Historical Society