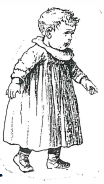 Nestled away in Lee Hilgeford's filing cabinet a letter was kept. He never knew the translation or names involved but felt it must be important. Years later after the translation was complete and clues answered, it became apparent this was a letter from Mary Berning Drees. It is the only information that has been found about her. Mary was born May 6, 1856 and died February 2, 1880. She left behind her husband, Johann Michael Drees and a daughter, Katherine Bernadine, who was twenty months old. The following is the translation of this letter and supporting ·evidence.
Minster, May the 4. 1879
Dear Brother I can not abstain to write you a letter. We waited a long time of a letter from yoti. And since we didn't get one from father either, I thought we write you and let you know, that we are still happy and healthy. I hope the same is with you and father Heinrich Drees and if it is not so, write us and let us know.
Now I like to let you know, that recently some people died in father s neighborhood, and they were Mrs. Lehmkuhle died last week, and Bernhard Meier and his wife died last winter. Heinrich Budde died also last fall. I like to let you know, that our father has now a new maid. Mary Fischer is gone. He has now Heinrich WBrmeiers daughter, I think he like s her just as we ll as the other. And Josephina had her first Holy Communion. I think longer than a year our father should not have a maid, be cause then Josephina is out of school, and they should help each other then. Little Frank was go ing this winter to school al so. They have now over there a new teacher. H Vondenbus ch left for Cansas. H Wilke took his place. Caroline and John Drees went to Cincinnati. Mary Fortman got married last week. Spring is here now, and the farmers put the oats in the fields and are ready to pick the corn. The winter harvest is standing in the fields. When you need any summer close let me know and write us. Dear brother it is already three years since our mother died, that is a long time. But we still will not forget her and pray for her. We like to include in our father in our prayers. Then he is always nice and good and takes. care of you and us, as good as he can. That's why we owe him our thanks.
I don't know much news. That's why I am closing this letter and give greetings to you. A greet ing from father and the brothers. A greeting from Michael to father H. Drees and on you. Th is wrote your loving sister Mary. Write soon again.
This letter is to Mary's brother, Joseph Nickolas. According to the records of St. Augustine Church, they were the children of John Gerhard Berning and Bernadina Gerken Berning. They had a sister Catherine Josephine who would have been twelve years old at the time of the letter and ready for her First Holy Communion. John Franciskus would have been six years old and ready for school. Many people at this time were called by their middle names. Mary and Joseph's mother had died exactly three years before this letter was written as stated in the letter. Mary was to die approximately three months later.
Joseph Nickolas was studying to be a priest presumably at St. Charles Seminary in Carthagena. He later dropped this pursuit according to Sister Marina Berning, his niece. Father Henry Joseph Drees was rector at St. Charles Seminary in 1879. He was Michael Drees' uncle so this is why mention of him is made so often. Mary also mentions her husband, Michael, in the last paragraph. It should be noted that spell ing and punctuation errors may have been made in the translation.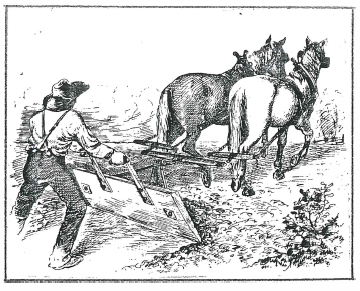 Mary's parents were Johan Gerhard Berning, born in Germany on February 13, 1826 and Bernadina Christina Gerkison, born in 1830. Mary's mother preferred to be cal led by her middle name, Christina, her last name was spelled several ways on different records: Gerken, Gerkin, and Gerkison. Johan Gerhard served as school director. Christina died May 31, 1876 and Johan Gerhard died on May 14, 1907. Both are buried at St. Augustine Cemetery, Minster, Ohio. Johan Gerhard's parents were Johan H. and Maria Elisabeth Berning. Johan H. was the first settler on section 30 of McLean Township, Shelby County and cut the first road through that section.
Resources:
Sister Marina Berning, Daughter of Henry Joseph Berning and Grand Daughter of Johan Gerhand Berning.
St. Augustine Church
Rita Hoying, Minster OH
Shelby County History Book
Lee J, Hilgeford, grandson of Mary Berning Drees
Karen Anthony, Ft. Loramie OH